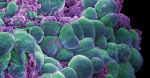 Read more about some of the more common types of cancer including breast, lung, colorectal, prostate and more.
Knowledge is Key When Fighting Cancer
Cancer is a disease that impacts everyone: either you or someone you love. The physicians and staff at Blue Ridge Cancer Care are here to guide you through this journey. We offer personalized treatment plans that will be tailored to your specific needs.
Blue Ridge Cancer Care offers information about various types of cancer and even some cancer prevention tips with the intent of helping you learn about cancer, as well as various forms of treatment. You may want to take notes as you read more about a type of cancer so you can ask questions at your next appointment. Request a consultation with one of our oncologists for a customized treatment plan developed for your specific needs. Blue Ridge Cancer Care is here to help you.